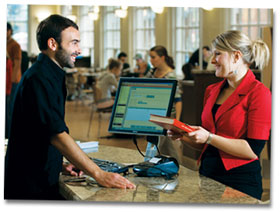 Are you interested in working for UNB Libraries?
We want to hear from you!
Working as a Student Assistant at UNB Libraries will give you the opportunity to learn about library resources and services. You will acquire valuable work experience that will help build your resume for future employment. Plus, you will get paid above minimum wage!
As a Student Assistant, you could provide service at the front desk, work behind the scenes providing technical support, or perform clerical duties. In general, depending on your class schedule, you would work part-time shifts in the day, in the evening, and on weekends during the academic year; full-time or part-time opportunities may be available during the summer.
 See details about the various Library Student Assistant positions.
Interested?
Please complete an application form, attach a resume, and write a cover letter to tell us a bit about yourself:
What are you studying?
Are you enjoying your programme?
What are your plans after graduation?
Why would you like to work in the library?
Is there a particular library in which you would like to work?
Are you interested in working part-time during the school year? Full-time during the summer?
Then deliver your application form, resume, and cover letter using one of the following methods:
FREDERICTON
To apply to UNB Fredericton Libraries, please complete the following online application and upload your resume:
SAINT JOHN
To apply to work at UNB Saint John's Library, please submit the following application form along with your resume and cover letter to Jenna Granger at the Hans W. Klohn Commons' Library Services Desk or via email to jenna.granger@unb.ca.
Thank you for your interest in working at UNB Libraries.
We look forward to the possibility of having you on our team!
Speak with Staff at one of our Service Desks, if you have any questions.
---
*Please note that if you want to apply for a position to work at the UNB ITS Service Desk in the Harriet Irving Library on the Fredericton campus, you should consult the ITS webpage for student employment.