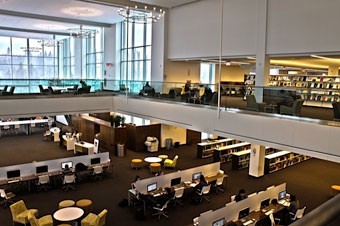 The Hans W. Klohn Commons is home to the UNB Saint John campus library and to other important resources and services as noted below.
At the Commons, you can:
Access research materials

Borrow books, journals, DVDs, course reserves, and other research materials. If we don't have something you need, fill out a Document Delivery request form and we'll try to get it for you as quickly as possible.

Borrow laptops and other equipment

Borrow a laptop, digital camera, tripod, microphone, and other IT equipment.

Book a meeting room

The Commons has 9 group study rooms that can be booked online. More information

on group study rooms

Get research help

Contact a librarian directly or ask for help at the Library Services Desk. We'd be happy to help you find the information you need and teach you how to use the library's resources. More information

on Research

| Hours

Get IT help/technical support

The Student Technology Centre can help with many technological needs including basic hardware setup and maintenance, software support, etc. More information

on IT Help

Get writing help

Consultants at the Writing Centre help students improve their writing abilities through tutoring sessions that focus on academic assignments. More information

on Writing Help

| Book an appointment

Get Math and Science help

The Flora Beckett Math and Science Help Centre helps students with first-year math, statistics, and science courses. The Help Centre comprises a team of qualified tutors coordinated by a faculty member from the Department of Mathematics and Statistics. Services provided through the Help Centre are free to all full and part-time UNB students. More information

for Math and Science Help

And more …

Enjoy quiet and collaborative study spaces throughout the building; use the Commons computers; photocopy, print, and scan; and purchase a treat (including JavaMoose coffee) at the Commons Café.
Postal Address: Hans W. Klohn Library, University of New Brunswick, P.O. Box 5050, Saint John, NB, E2L 4L5
Physical Address: Hans W. Klohn Library, University of New Brunswick, 100 Tucker Park, Saint John, NB, E2L 4L5
Instant Message
Ask Us chat requires JavaScript.
Maps and Floors plans
Contact Us